Spring 2023 College Signing Day: 15 Athletes
May 23, 2023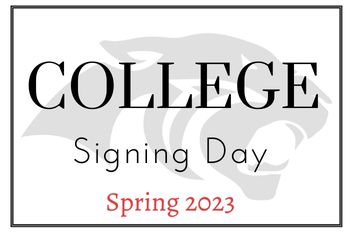 This May the Cabot Athletic Department held their spring college signing ceremony for fifteen student-athletes!
Family and friends gathered in Panther Arena to watch each student as they said a few words of gratitude for their coaches, family, and friends before announcing where they would be continuing their academic and athletic career.
Congratulations to these athletes:
Lexie Lockwood (Dance) Henderson State University, Ashley Drees (Dance) OBU, Natalie Barnello (Cheer) ASU-Jonesboro, Kassandra Munguia (Cross Country) Texas A&M-Texarkana, Brenlee Leonard (Track & Field) OBU, Bo Rogers (Track & Field) SAU-Magnolia, Micheal Griffin (Track & Field) UCA, CJ Dye (Wrestling) Ottawa University, Alejandra Lopez (Soccer) Texas A&M University-San Antonio, Graci Hock (Softball) Delta State, Jarah Potter (Softball) ASU Jonesboro, Tristan Peterson (Swim) Hendrix, Aaron Fitch (Baseball) SAU-Tech, Ryan Slunder (Baseball) SAU-Magnolia, and Kade Martin (Soccer) Southwest Baptist University, MO

Lexie Lockwood will attend Henderson State University for dance. While at Cabot, Lexie has been a part of back-to-back State Championship titles (2021 & 2022) and is a UDA, NDA All-American, and All-Star dancer. Lexie is excited to compete at the college level and to get to continue what she loves the most. She plans to major in Physical Therapy.

Ashley Drees wll dance at Ouachita Baptist University. Ashley was a member of the 2021 Dance State Championship Team her junior year. She was also an Orpheum nominated choreographer in the school production of "Anything Goes." Ashley said she has always loved OBU and is excited to go there and to continue dancing. While at OBU, Ashley plans to major in Media Communications.
Natalie Barnello signed to cheer at Arkansas State University next fall! Natalie was a member of the 2020 Cheer State Championship Team as well as placing first at Nationals in 2022 and runners-up in 2021! Natalie is excited for this next chapter in her life and plans on pursuing a degree in Elementary Education.
Kassandra Munguia will run cross country at Texas A&M in Texarkana next year. Kassandra's high school accolades include being a member of a two-time state championship team, a state runner-up for Texas, and a three-time distinct championship team member in Texas. At Cabot, she was a member of the Conference Championship team in Cross Country and Track. Kassandra chose TAMUT because she felt that it was the best place for her both athletically and academically. She is looking forward starting this new journey and will major in Biology.

Brenlee Leonard will throw shot at Ouachita Baptist University next year.

Bo Rogers will throw discuss at Southern Arkansas University – Magnolia.

Micheal Griffin will run track at the University of Central Arkansas. Micheal is an All-State Track athlete, finished first in conference for the 300M Hurdles (41.14) and finished sixteenth place at the 2023 Decathlon.

CJ Dye will wrestle at Ottawa University next year. CJ placed third in his weight class at State his senior year and was also a member of the 2023 Wrestling State Champiopnsip Team.

Alejandra (Ali) Lopez will play soccer at Texas A&M University – San Antonio. Ali chose Texas A&M because of the community, student culture, and it's close to home. She is looking forward to playing at the next level and spending time with her family and of course making new friends in the process.

Graci Hock is attending Delta State to play softball. Graci is a four-time All-Conference softball and All-State bowler. She also received All-State her senior year. At Delta State, Graci will major in Biochemistry with hopes of becoming a forensic scientist or biochemist.

Jarah Potter is attending Arkansas State University in Jonesboro to play softball. While at ASU, Jarah plans on majoring in Radiologic Science.

Tristan Peterson will swim at Hendrix.

Aaron Fitch will attend SAU-Tech and play baseball.

Ryan Slunder will play baseball at Southern Arkansas University – Magnolia next fall. Ryan was a member of the 2023 6A Central Conference Baseball Championship team. Ryan will major in Pre-Veterinary Studies with plans to go to vet school and work in the animal industry after college.

Our last signee was Kade Martin. Kade will play soccer next fall at Southwest Baptist University in Missouri.