CHS Cheer 2020 5A-6A State Champions
Jan 15, 2021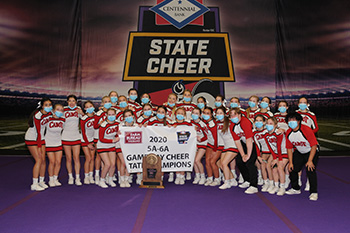 For the first time in school history, the Cabot High School Cheer Team is STATE Champions!
On December 19, Cabot Cheer took home the State Championship in the 5A-6A Game Day Division at the 2020 State Competition in the Bank OZK Arena in Hot Springs.
The competition was divided into three parts. All teams had 3 one-minute routines that they performed; a band chant, crowd leading, and fight song. Cabot has competed in this Game Day specific competition for the past three years, placing fourth overall in 2018 and last year falling to fifth place.

The Cabot Cheer Team learned the routines they performed at State back in July and have been practicing and perfecting them since then. Cabot Cheer coaches Ashley Cooper and Kristen Sumler could not be prouder of this team and their commitment from day one. Coach Cooper said the girls really bought into this program and ran with it. Everyone knew this year was going to be challenging with COVID so they took things one day at a time and were grateful for whatever season they were allowed.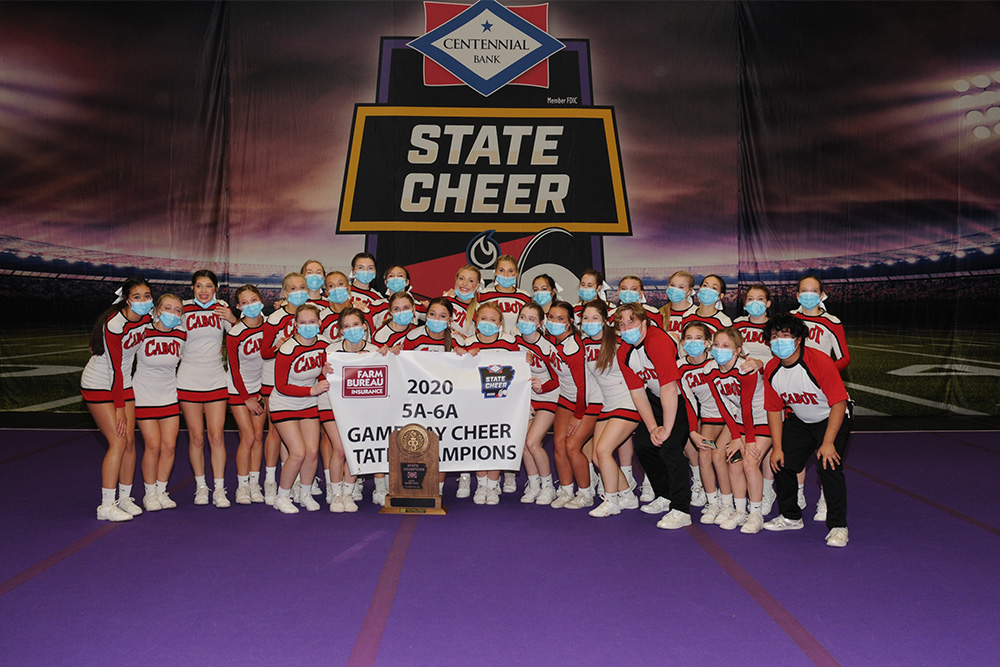 With COVID restrictions the cheer team did their very best to follow guidelines and with masks and following social distancing guidelines. In classrooms, they sat apart from others so they would not run the risk of being quarantined. When Cabot went to the State Tournament in December, they luckily had a full roster with all 27 members competing.
2020-2021 CHS Cheer Team:
Captain- Marissa Brown, Co-Captain- Ava Schulz, Co-Captain- Kory Lynn Jennings
Seniors
Elizabeth Kreimeyer, Heidi Mathes, Hewitt Helton, Katie Cason, Macey Jasmin, and Riley Campbell
Juniors
Abi Wade, Andrea Lefevre, Gracen Thurman, Karis Martin, and Madi Rownd
Sophomores
Aaron Pena, Alyssa Sweeden, Destiny Sandner, Ella Speer, Kassidy Smith, Kathryn McCrory, Kennedy Hemphill, Kylie Bottoms, Lanie Brown, Maddox White, Natalie Barnello, Paige Styles, and Tayler Johnson
Coaches: Ashley Cooper and Kristen Sumler; Spirit Coordinator: Katherine Tripp
We are so proud of them, their undefeated season, and such a great victory at Hot Springs. Congratulations again to our Cabot Panther Cheer State Champions!