Pre-K Registration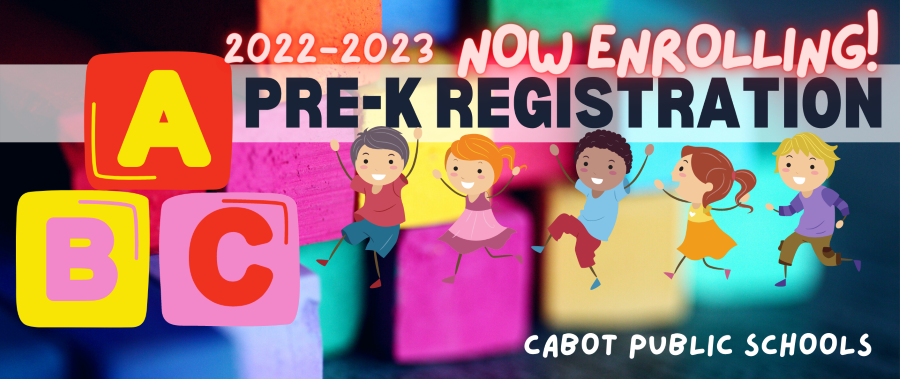 ONLINE REGISTRATION PROCESS

Cabot Public Schools Pre-K is proud to announce New Student Registration (Pre-K) for the 2022-2023 school year is now available online.
All registration will take place online and by telephone.
To be eligible for the Pre-K program, you must be a resident in the Cabot School District.
All district children who are 4 on or before August 1, 2022 are eligible to apply.
---
Instructions for pre-registering:
Go to Infofinder (Bus Stops) to determine your zoned school.
Boundary Zone Maps are also available by clicking here.
If you have trouble locating your address in Infofinder, please contact Central Administrative Office (501-843-3363) for assistance.
Please note: Southside children attend Westside, Eastside attends Northside and Stagecoach attends Central.
Click here to go to the online registration site to create an account to pre-register your child.
Upon submitting the online application for your Pre-K students, please disregard the immediate submission confirmation email you will receive.
Once your application has been reviewed, you will receive an email with instructions on how to submit your required documents. From that email, you will be able to schedule a phone appointment and upload all documentation.
Required documents to register:

Child's birth certificate
Child's social security card
Proof of residency (examples include: water, electric, gas, cable tv bills, current lease)
Proof of income for every adult in the home (the most current 30 days)
At the end of your appointment and all documents have been received, your child's Pre-K registration will be complete.
This does not automatically guarantee your child a spot in Pre-K. All applicants will be notified of their status beginning in May after applications have been verified and processed. The Pre-K program is income based and a state issued sliding scale is used to determine eligibility for grant or tuition assistance.
We follow the Cabot School District calendar. Program hours are 7:30 a.m.- 3:20p.m.
If you have any questions about the online process, feel free to contact the Pre-K Department at 501-843-3363 ext 1014 or 1016.
You can also email:
Lisa York, Pre-K Director: Lisa.York@cps.k12.ar.us
Eva Zweifel, Administrative Assistant: Eva.Zweifel@cps.k12.ar.us
---
Important Notice: Registration information is needed by our district in order to make important decisions regarding staffing at our schools. We are bound to a limited number of students per class and per teacher by Arkansas Department of Education regulations. Due to this, we ask that you promptly and accurately fill out this registration information.