April School Board Recognition 2022
April 29, 2022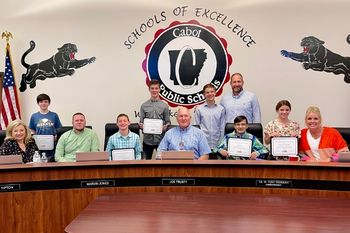 Several amazing students were recognized at the April Cabot School Board meeting!
National Merit Finalists
Congratulations to Landon Hardister, Noah Pifer, and Preston Hodges on being named 2022 National Merit Finalists!

Approximately, 16,000 students are named National Merit Semifinalists nationwide, based on their PSAT/NMSQT scores. These students now have the opportunity to compete for some 7,600 National Merit Scholarships worth more than $31 MILLION dollars that will be offered this spring.
Arkansas Times Academic All-Star
Cabot High School senior Caroline Huynh has been named an Arkansas Times Academic All-Star! This award honors the best and brightest in the state. Only 20 students are named on the list.
Caroline is attending Rice University in Houston, Texas on a full-ride scholarship where she is considering majoring in either bioengineering or nanoengineering. At Cabot High School, she is involved in the Visual Arts Department as both an AP art student and as the president of the National Art Honors Society chapter and the art club. She is also involved in STEM through Mu Alpha Theta, National Science Honors Society, and the former FIRST robotics team.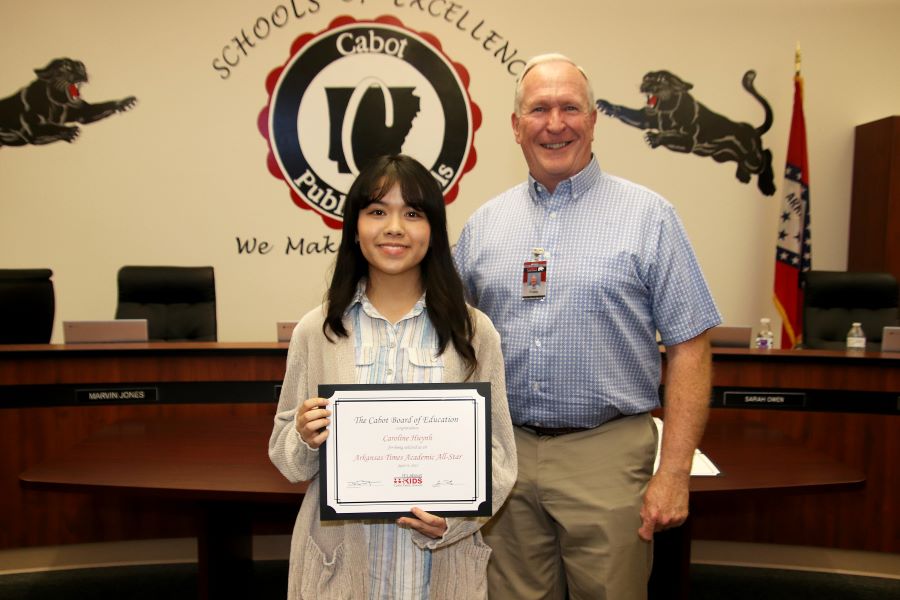 Caroline has used her dexterity in both art and STEM to make community contributions including tutoring, making pillows for Arkansas Children's Hospital, and a few other community service activities through National Honors Society and AP Academy. She is an Arkansas Governor's School Alumni, a National Merit Commended Scholar, an AP Scholar with Distinction, and an Arkansas Governor's Scholastic Honoree.
Outside of school, Caroline enjoys crafty hobbies such as baking, art, sewing, and calligraphy.
District Spelling Bee Winners
Our top six Spelling Bee winners in the district were also recognized during the April board meeting. Students also had the opportunity to team up with a school board member for an impromptu spelling bee!
Congratulations to:

Carter Haley
Jacob Hertzog
Presley Killingsworth
Jason Leder
Caden Niece
Mason True
In the Cabot School District Spelling Bee: Mason True (CJHS) won 1st Place, Jacob Hertzog (CJHS) 2nd Place, and Presley Killingsworth (CMSS) won 3rd Place.
In the Lonoke County Spelling Bee: Carter Haley (CJHN) won 1st Place and Mason True (CJHS) won 3rd Place.
Carter Haley went on to represent the Cabot School District in the Arkansas State Spelling Bee and did a fantastic job!

We are Panther Proud of all our students!