Cabot Students Achieve High Honor In Band
January 10, 2022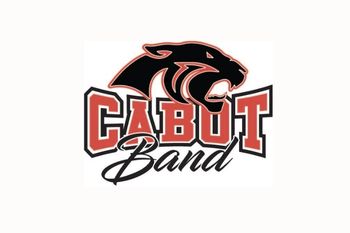 One-hundred-forty-six band students from Cabot Junior High North, Cabot Junior High South, and the Cabot Freshman Academy earned a chair in the Region IV All-Region Bands on Saturday, December 4!
They competed with students who play the same instrument from area schools including Searcy, Beebe, West Memphis, and Marion. A pre-designated number of students were selected from each instrument to be placed in the All-Region bands. This is one of the highest honors a band student can make regardless of age.
All junior high band students who made the all-region band will participate in a two day All-Region clinic at a later date.
Congratulations to all of these band students!

North Clarinets:

Row 1: Camryn Edwards, Ava Davis, Sydney Jansen, Natalie Rodriguez, Madison Wright
Row 2: Katelynn Hicks, Addisyn Wolters, Valerie Garcia
North Baritone/Tuba:
Row 1: Jackson Minard, Snow Yang, Emmalee Clouse
Row 2: Andrew Sawyer, Damien Graff, Bryson Hammock, Cord McCall
North Flutes, Double Reeds:
Row 1: Allayna Webb, Brooklyn Carmical, Calyn Mendoza, Abigail White, Brooklyn Emerson
Row 2: Brody Volpert, Sasha Kustsinskaya, Madelynn Babbs
North Alternates:
Row 1: Briylie Wimberly, Baliegh Bouwknegt, Alayna Thomas
Row 2: Jason Leder, Trenton Doss, Jackson Warhurt, Zach Sondheim
North Percussion/Horn/Trombone: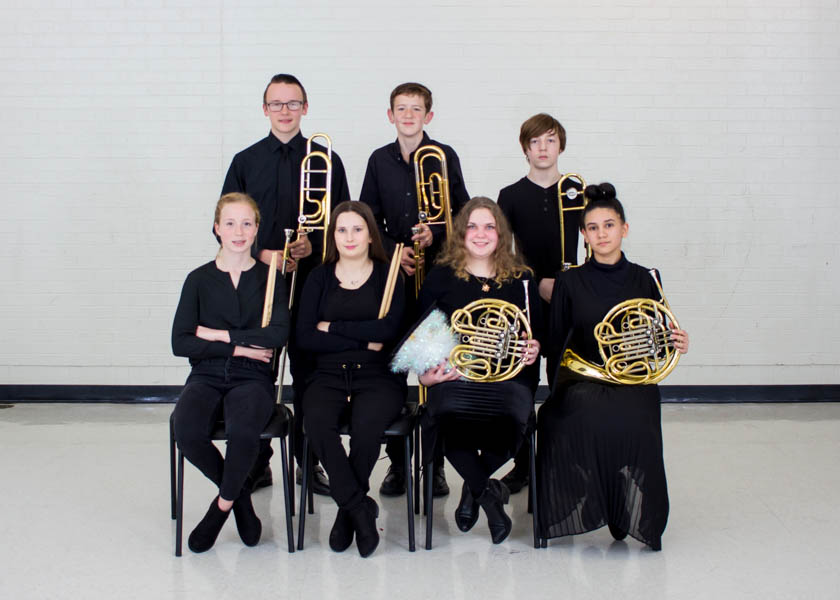 Row 1: Cate Mathes, Brooke Boyer, Marleigh Bickham, Rin Ali
Row 2: Tyler Thrasher, Noah Hudson, Duane Nelson
North Trumpets/Saxes:
Row 1: Kinsley Perry, Nathaniel Melikian, Hudson Merrick, Ryan Cooper
Row 2: Sarah Parish, Lawson Cooper, Cooper Harvey
South Alternates:
Row 1: Destiny Lamb, Cloe Bisbee, Ava Miller
Row 2: Gavin Zaitz, Michael Rogers
Not Pictured: Cale Rozman, Sydney Lemley, Jimmy Henderson
South Clarinets/Flutes:
Row 1: Adam Stanison, Luke Williams, Noelani Comar, Dakoda Knight
Row 2: Kayleigh Clopton, Brylea Pitts
Not pictured: Kymberlin Charles
South Saxes:
Row 1: Delainy Harvey, Jacob Hertzog, Cayden Wall, Xavier Salinas
South Trumpets/Percussion: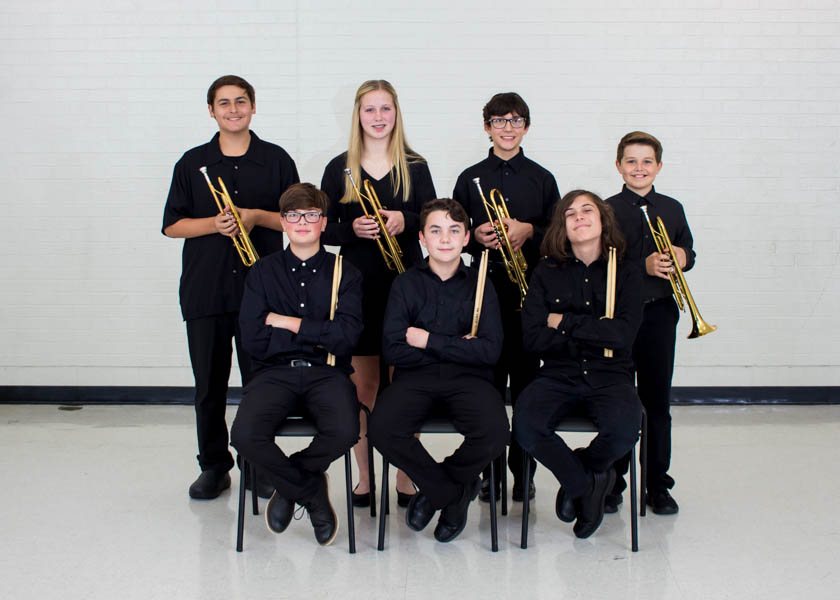 Row 1: Joshua Kaker, Cody Meherg, Jackson Pennington
Row 2: River Studer, Sara Sarotte, Braxton Hicks, Steven Wilson
South Tubas/Trombones:
Row 1: Dakota Moloski, Emmalee Hilbert, Drew Haynes
Row 2: Dylan Cox, Logan Schwab
CFA Clarinets - 1st Band:
Row 1: Elisabeth White, Kalem Bennett, Annie Hogue, Claire Muller, Abigail Hann
Row 2: Blayton Montgomery, Jiana Henson, Jersey Walton, Lizette Servin, Reagan Boyles, Makayla O'Dell
CFA Clarinets - 2nd Band:
Row 1: Paisley Bolton, Gabby Young, Destiny Billy, Natalie Hubbard, Walker Johnson
Row 2: Jayden DeSellems, Na'Caira Davis, Christopher Stanley, Aiden Fulkerson
CFA Flutes/Double Reeds:
Row 1: Abigail Riles, Hope Plezia, Taylor Kemp, Paxton Crum
Row 2: Ariana Johnson, Lindsey Manry, Lillian Halley, Rhianna Bowen, Aurora Ruppert
CFA French Horns:
Row 1: Emily Coulter, Selah Platt, Ashley Cannon-Harris, Liliana Clark
Row 2: Caroline Veuleman, Joaquin Germain, Keith Edgin
CFA Percussion:
Row 1: Nathan Humphries, Averie Counts, Gabriel Miller, Levi McNeill
Row 2: Patrick Esau, Sam Akins (not pictured: Jaidon Petray)
CFA Saxes/Bass Clarinets:
Row 1: Mateo Fisk, Andrew Mills, Ethan Hinkle, Michael LeMay, Victoria Rivera, Brianna McCoy, Chance Christiansen
CFA Trombones:
Row 1: Finley Hanson, Josh Blair, Jayden Bullock, Angel Flores Barreda
Row 2: Chase Phillips, Isaac Haynes, Gracie Quintero, Cassy Patton, Windy Wilson, Daniel Black
CFA Trumpets:
Row 1: Ianna Cowen, Andrew Kinnison, Kaleb Wilbur, Cole Litchfield
Row 2: Zachary Waddle, Ryland Brown, Trust Miller, Ethan Cash (not pictured: Luke Jose & Sarah Knowlton)
CFA Baritones: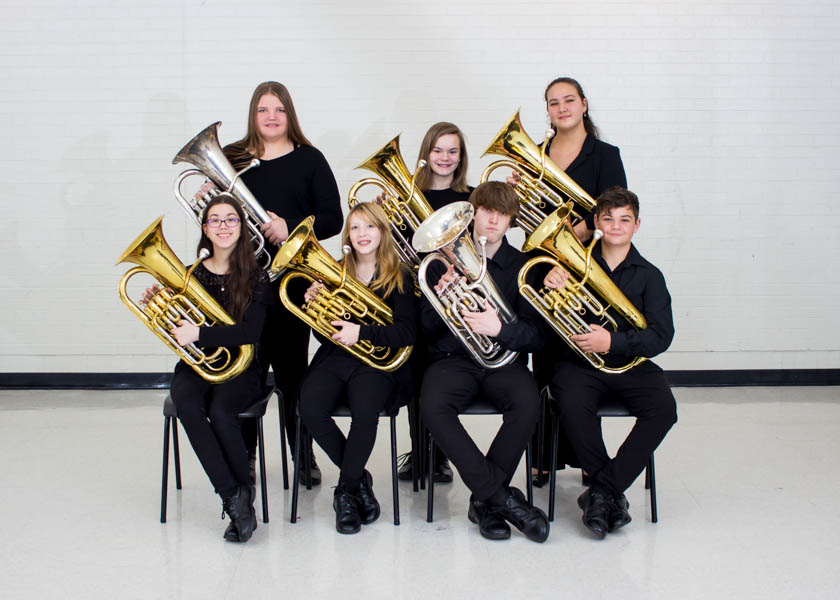 Row 1: Claire Booles, Cecelia Micco, Max Rook, Chris Bridges
Row 2: Abigail Charlton, Ava Tonnessen, Joni Kaykhossrokiani
CFA Tubas:
Row 1: Hayden Burrow, Matthew Littell, Peyton Scroggs, Psyllis Pruiett
Row 2: Haden Mason, Jacob Williford
CFA Alternates:
Row 1: Lawson Beams, Kaleb Suen, Aiden Ringgold, Serenity Chandler, Sakura Long, Bayleigh Lucas
Row 2: Bruce Moll, Jackson VanWhy, Archie Wood, Ethan Galura