There's An AT For That: Athletic Training Month 2023
March 8, 2023
March is National Athletic Training Month! Athletic Trainers (ATs) are highly qualified, multi-skilled health care professionals who render service or treatment, under the direction of or in collaboration with a physician, in accordance with their education, training and the state's statutes, rules and regulations.

As a part of the health care team, services provided by athletic trainers include primary care, injury and illness prevention, wellness promotion and education, immediate and emergency care, examination and clinical diagnosis, therapeutic intervention and rehabilitation of injuries and medical conditions.

This year's slogan is, "There's an AT for That" Athletic Trainers are health care professionals. Highly educated and dedicated to the job at hand, athletic trainers can be found in high schools, colleges, corporations, professional sports, the military, performing arts, clinics, hospitals, and physician offices. Sports injuries can be serious and athletic trainers can save lives.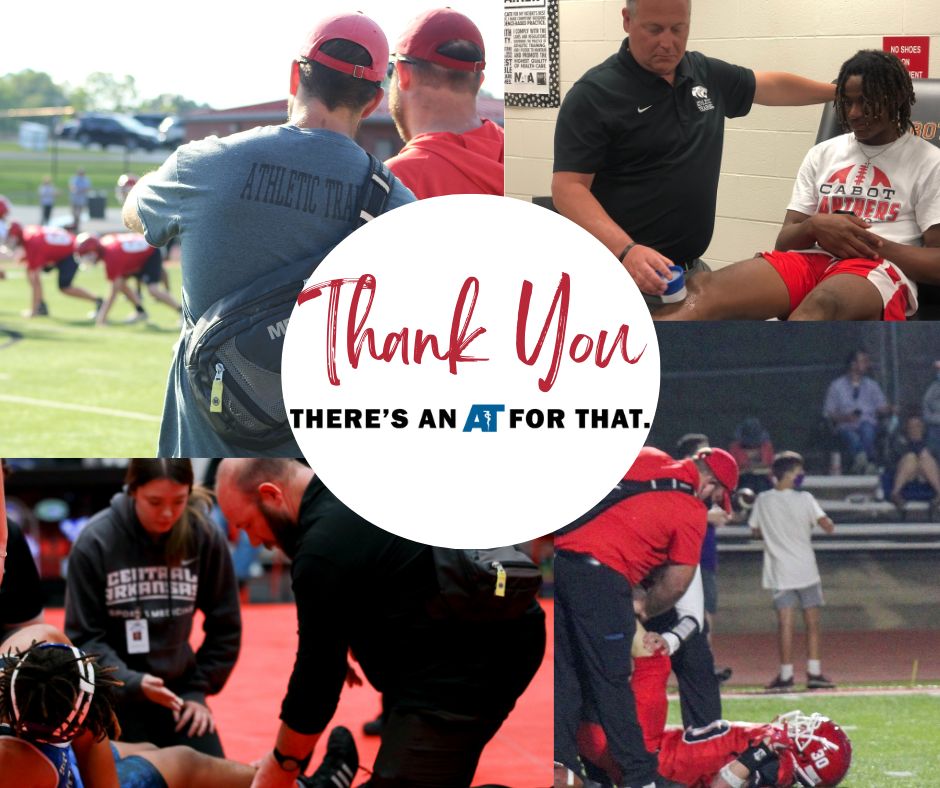 The Cabot School District employs five outstanding athletic trainers who provide quality health care for our students and student-athletes and who are experts in their field. A huge thank you to our amazing athletic trainers:
Jason Cates – Head Athletic Trainer
Jennifer Asberry – Associate Head Athletic Trainer
Hollie Rush – Athletic Trainer/Sports Medicine Teacher
Chad Burke - Athletic Trainer/Sports Medicine Teacher
Keith Shireman – Athletic Trainer

The Cabot School District's Sports Medicine Program is also nationally recognized and serves as a model to other school districts. Mrs. Rush and Mr. Burke teach the foundation of sports medicine that provides students with a general overview of the athletic training profession and how it fits into the overall healthcare community.
Thank you again to our Cabot School District Athletic Trainers. We salute you for providing quality health care to our athletes and employees every day. We appreciate each and every one of you! Happy Athletic Training Month!