CHS Proud To Recognize Five 2023 National Merit Semifinalists
September 14, 2022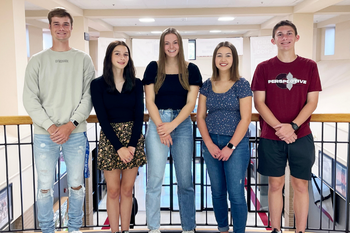 Cabot High School is proud to announce our five 2023 National Merit Semifinalists!
Congratulations to Kellar Ringgold, Emma Martin, Carly Madar, Alexis Childs, and Nathan Thurman.
The National Merit® Scholarship Program is an academic competition for recognition and scholarships that began in 1955. High school students enter this program by taking the Preliminary SAT/National Merit Scholarship Qualifying Test (PSAT/NMSQT®).

According to nationalmerit.org, of the 1.5 million entrants, some 50,000 with the highest PSAT/NMSQT® Selection Index scores (critical reading + mathematics + writing skills scores) qualify for recognition in the National Merit® Scholarship Program.
In early September, about 16,000 students, or approximately one-third of the 50,000 high scorers, are notified that they have qualified as Semifinalists. These academically talented high school seniors have an opportunity to continue in the competition for some 7,400 National Merit Scholarships worth more than $32 million that will be offered next spring.
This is a great honor for our Cabot High School students and we are proud to recognize them.