Cabot Welcomes New Teachers 2022-2023
July 29, 2022
Cabot Public Schools is proud to welcome new teachers to the district. New faculty and staff recently had the opportunity to participate in a two-day new teacher onboarding to help them prepare for the upcoming school year.

New educators also had the chance to listen and learn from current administrators and teachers. They received an overview of the district, expectations, and advice and strategies.
Congratulations to our new teachers!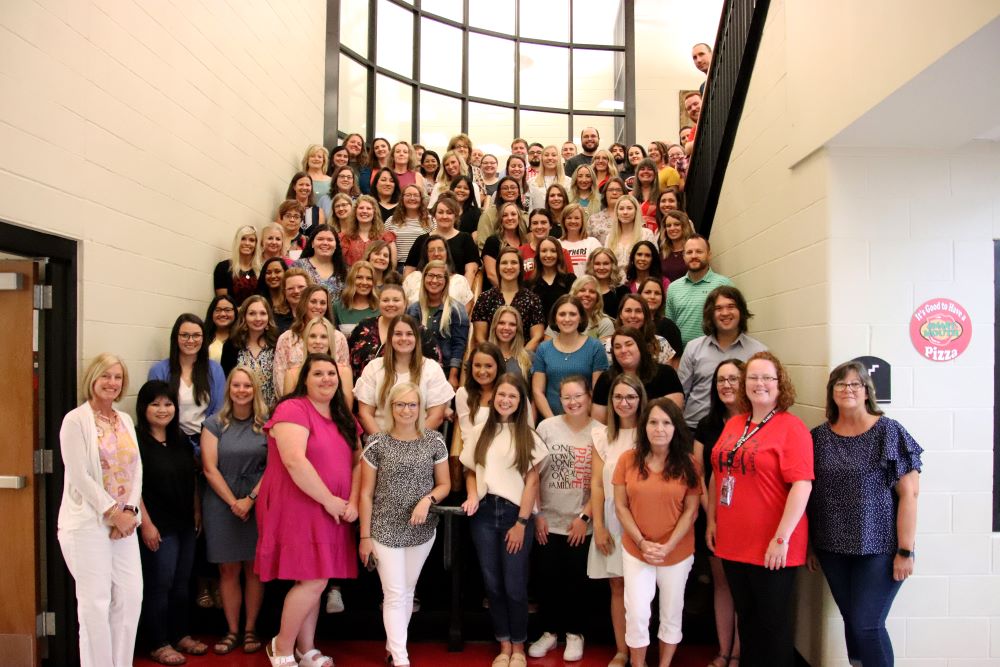 Christy Duncan, Thomas Asewicz, Bailey Holt, Crystal McArthur, Kalene McLaughlin, Melonie Burton, Nicole Little, Justin Acree, Ashley Beaston, Jennifer Carballo, Jason Clark, Lacy Copley, Elise Gray, Kaitlin Hancock, Cody Jackson, Jordan Kinsey-Tenison, Devine Stribling, Shirley Wade, Michelle Benson, Philip Collins, Amanda Coombe, Summer Helmbeck, Joan Johnson, Vanessa Martinez, Ashley Maxwell, Anamaria May-Gamboa, Ashley McCarty, Drew McDonnough, Ian Neiswender, Christopher Scott, Phillip Thomas, Hannah Binyon, Kendall McCarty, Carson Moore, Jennifer Riley, Leah Simpson, Elizabeth Walker, Suzanne Leslie, Jennie Gates, Jazmyn-Rayne Parker, Sonya Scroggins, Tyler Hill, Natalie Flemming, Lillian Hancock, Brent Hawley, Michelle Jones, Greer King, Alyssa Lively, Kyal Pruitt, Charles Raper, Jena Reitz, Alexandra Simpson, Jesse Sparks, Samantha Turkia, Emily Lang, Amanda Bagwell, Kimberly Harmon, Lesli Sawatzky, Candice Cutrone, Jamie DiFlorio, Melanie Hamilton, Mikalah Hanes, Jesse McCoy, Oriana Montoya-Banda, Deborah Nicholas, Pamela Rogers, Briley Saunders, Rachel Chosich, Jayna Davis, Suzanna Duncan, Lindsey Goudeau, Ashley Missman, Jessica Pauley, Alexandra Rice, Kristen Scott, Katie Hague, Samantha Simpson-Dardenne, Felicia Trigg, Denise Trezza, Faith Ball, Lori Hines, Brandy Santiago, Nicarah Wooten, Kaitlin Alexander, Shelby Cutrer, Madison Rose, Nicholas Hancock, Brooklyn Jennings, Kelly Self, Brittany Chambers, Tara Burke, Linnea Mason, Jillian Bowls, Stacey Cook, Bailey Guinn, Kristy Johnson, Stacy Babb, Ciara Bilderback, Geneva Hoffpauir, Ashley Huffman, Mollie Johnson, Katelyn Nigus, Anna Southerland, and Kaitlyn Spill

Thank you to the Cabot Classroom Teachers Association, Arkansas State Teachers Association, Arkansas Education Association, Cabot Junior Auxiliary, Centennial Bank, and Cabot Chamber of Commerce businesses for providing breakfast, lunch, desserts, prizes & goodie bags to our new Cabot Panthers.

Also, a special thank you to these businesses and individuals below for participating in the Chamber of Commerce Luncheon for our new teachers. We are grateful to our community for their continued support.
AR Care, AEDD Jobs 4 You (Arkansas Enterprises for the Developmentally Disabled Inc.), Allied Therapy & Consulting Services, Arvest Bank, ASU Beebe, Bank OZK, Beyond Boundaries, Kathy Fuller – Author, Cabot Emergency Hospital, Cabot Office Machines, City of Cabot, Dairy Queen, Edge Realty, Farm Bureau, First Arkansas Bank and Trust, First Community Bank, First Electric, First Security, Hutton Music Academy, Owen Orthodontics, Regions Bank, ReMax Real Estate Connections, Roush Electrical Company, Shalee's Day Spa, Southern Bank, State Farm – Grant Pryor Office, State Representative Brian Evans, SuddenLink, Supreme Lending, & The Humble Thread