Cabot Hosts Wrestling "Bring the Hammer" Tourn: 2021
December 14, 2021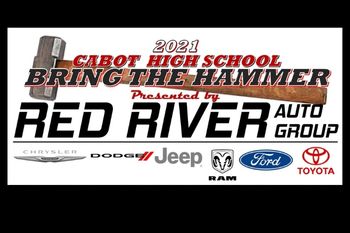 The Cabot Athletic Department and Cabot School District is excited to host the 2021 "Bring the Hammer" Wrestling Tournament December 17-18.

This is the largest wrestling tournament in the state of Arkansas and will consist of 44 boys and girls teams competing (24 boys teams and 20 girls teams) for the Championship titles. Among the 44 teams there are five different states.

This 2-day tournament begins Friday, December 17th at 3:00 p.m. and Saturday, December 18th at 8:00 a.m. and will be in the Cabot High School Panther Arena, Old Gym, and Annex.

This is an individual match tournament with 14 different weight classes. Winners from each class will be announced throughout the day Saturday.

We would like to welcome the following teams to Cabot: Azle, TX, Bentonville West, Bryant, Catholic, Christian Brothers, TN, Cushing, Ok, Dumas, Texas, Grapevine, TX, Keller Timber Creek, TX, Lake Hamilton, Lakeside, Lancaster, Texas, LR Central, North Little Rock, Perry, OK (Boys and Girls), Poplar Bluff, MO, Rogers, Rogers Heritage, Sand Springs, Sheridan, Springdale Har-Ber, Sylvan Hills, and Van Buren.
Good luck to our Panther and Lady Panther Wrestlers!