Cabot Wrestling – 2020 6A Central Conference Dual Champions
January 29, 2021
The Cabot Wrestling Team has had a phenomenal year with an overall record of 10-2 and 7-0 in conference! They won 91 out of 98 possible individual matches during conference. With this outstanding record, the Panthers are now the 2020 6A Central Conference Dual Champions!

Team highlights from the 2020-21 Wrestling season include:
* Blackhorse Invitational – 2nd Place
* Bring the Hammer Duals – 2nd Place
* Dragon Duals – 2nd Place
* Bentonville West Tournament – 1st Place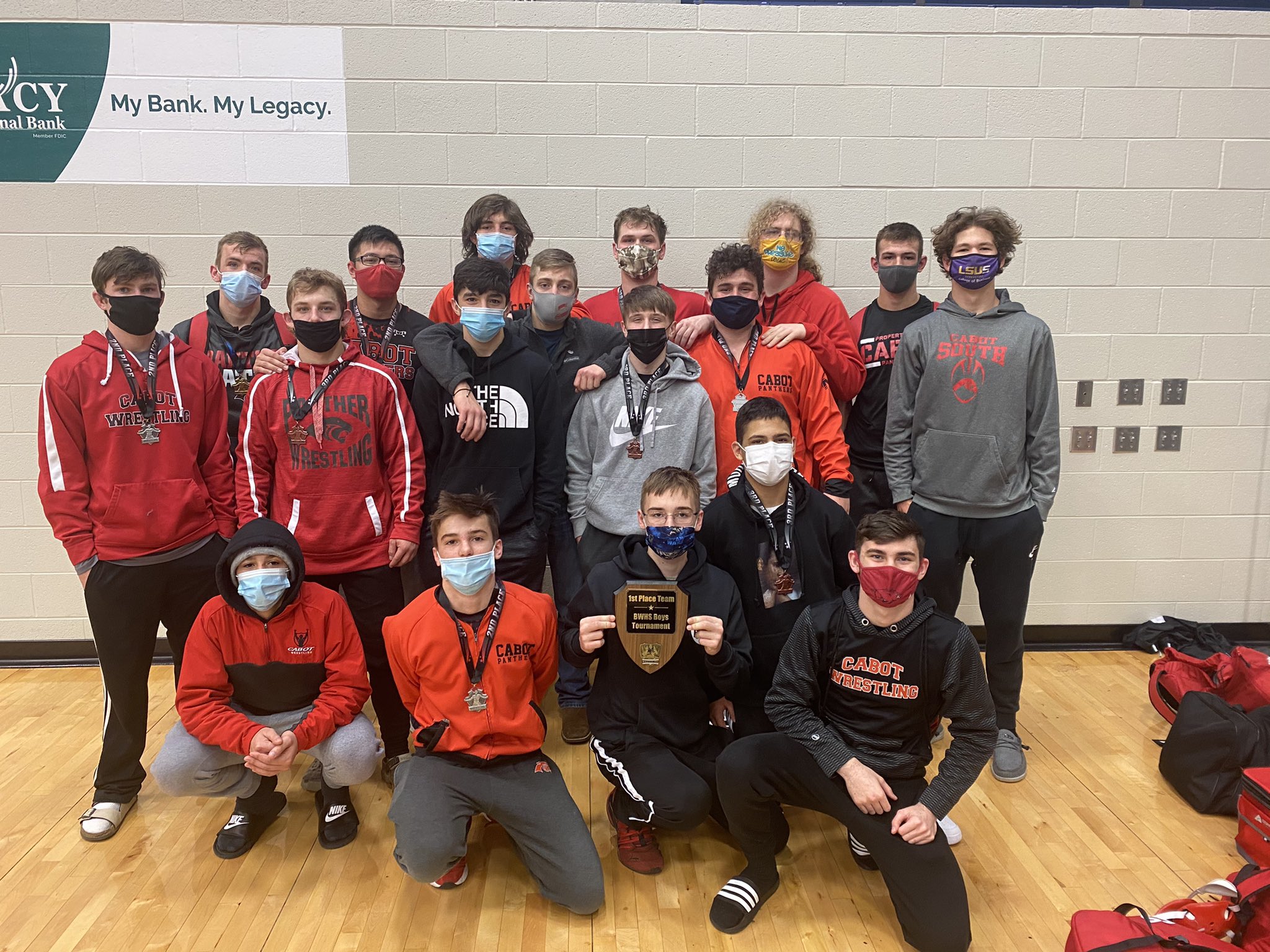 Ten Wrestlers Place At Bentonville West Tournament:
Logan MacConaugh (3rd Place), CJ Dye (2nd Place), Dustin Calhoun (2nd Place), Gabe Stanley (3rd Place), Josh Mercado (3rd Place), Cole Eason (1st Place, Outstanding Wrestler), Cam Hicks (2nd Place), Gavin Reardon (1st Place), Will Bevis (3rd Place), and Gage Loar (2nd Place).

* Big East Central Conference Tournament – 1st Place
112 Weight Class: Will Clark, 3rd Place
120 Weight Class: Aidan Gray, 3rd Place
126 Weight Class: CJ Dye, 2nd Place
132 Weight Class: Dustin Calhoun, 1st Place
138 Weight Class: Austin Denton, 2nd Place
145 Weight Class: Gabe Stanley, 1st Place
152 Weight Class: Archer Torres, 1st Place
160 Weight Class: Cole Eason, 1st Place
170 Weight Class: Logan Eason, 2nd Place
182 Weight Class: Cameron Hicks, 2nd Place
195 Weight Class: Gavin Reardon, 1st Place
220 Weight Class: Will Bevis, 1st Place
285 Weight Class: Gage Loar, 1st Place
Cabot junior Cole Eason recently received his 100th win at the Big East Conference Tournament against Conway! Congratulations to Cole!

Remainder Wrestling Schedule:
* Jan 29: Quad Match with Lake Hamilton, Bentonville, El Dorado, Greenbrier, and Cabot JV – CHS Old Gym, 6pm
* Jan 30: JV Open Tournament – CHS Old Gym/Annex, 9am
Congratulations again on a great season and we wish you the best of luck at State!
The 2021 6A STATE Wrestling Tournament is scheduled for February 19-20 at the Jack Stephens Center at UALR.