Cabot Junior High North Inspires Students to Change the World
December 2, 2021
Cabot Junior High North teachers have been inspiring students with the words and life lessons of Naval Admiral William H. McRaven's speech, "What Starts Here Changes the World." This speech has been adapted into a short read Make your Bed: Little Things that can Change your Life. . .And Maybe the World.
Each week, students listen to a recording of Principal Charlotte Sandage reading a chapter, specifically noting advice from lessons of hardship from the Admiral's experience in the naval academy, as well as his honorable service to our country.
These lessons include:
Start the day with a task completed. If you want to change the world, start off by making your bed.
Find someone to help you through life. Find someone to help you paddle.
Respect everyone. Measure a person by the size of their heart, not the size of their flippers.
Life is not always fair, move forward. Get over being a sugar cookie and keep moving forward.
Don't be afraid to fail often. Don't be afraid of the circuses.
Take risks. Sometimes you have to slide down the obstacle headfirst.
Face down the bullies. Don't back down from the sharks.
Step up when times are toughest. You must be your very best in the darkest moments.
Lift up the downtrodden. Start singing when you're up to your neck in mud.
Never give up. Don't ever, ever ring the bell.

Each slogan teaches a valuable lesson about treating others with kindness, working bravely as a team, and striving with integrity to always do your best even in life's darkest moments.
Mrs. Jarmon, 7th grade science teacher, stated "The kids seemed to really connect with each chapter, especially the one about the sugar cookies. They even started making their own quotable standards to live by based on personal stories."
The class discussions gave students a chance to talk with their peers about changing personal habits in order to create a more optimistic environment to live, work, and play in.
Seventh grade student, Madelyn Meranda said, "All together, what I got out of it is that nothing comes from standing still. It's important to push forward no matter what."
Many classes designed posters and comparison charts of current concepts that relate to the naval stories. At the end of the book, the administration invited all the students to participate in a competitive essay contest. The directions were to develop thoughts based on one of the 10 rules of how to live life.
Students selected a lesson they felt motivated them to live life to the fullest. The essays the students submitted were phenomenal. They were filled with personal examples and challenges students had overcome by following some of the strategies learned from these lessons.
Cabot Junior High North administration invited several judges to select the top three winners. Congratulations to Brooke Walton, Aleksandra Kustsinskaya, and Carolyn Mendoza.
1st place, Brooke Walton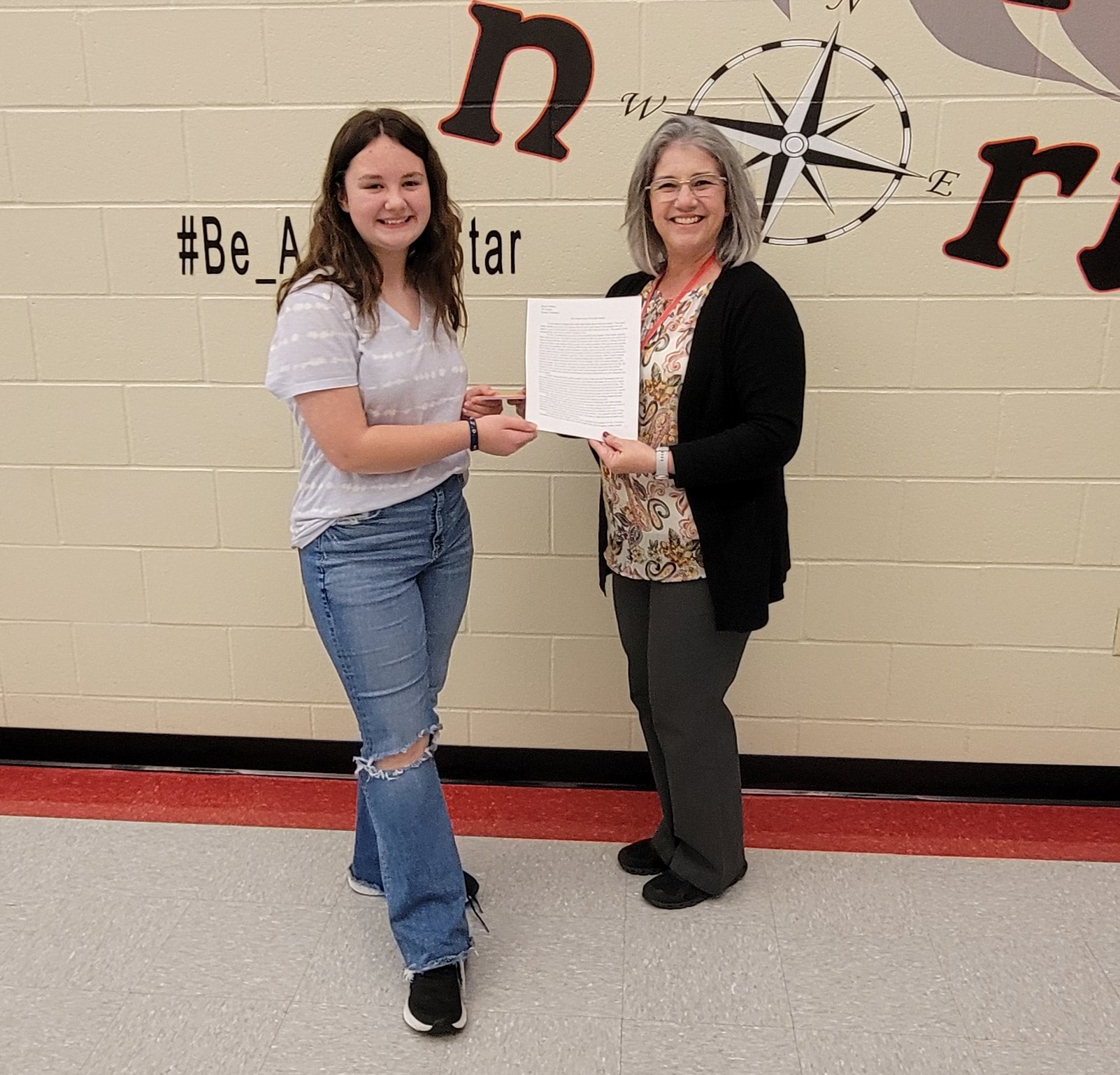 2nd place Aleksandra Kustsinskaya

3rd place Carolyn Mendoza

These students will receive a personal letter from Naval Admiral William H. McRaven congratulating them on their accomplishments.