CHS Named To U.S. News & World Report Best High Schools
September 21, 2021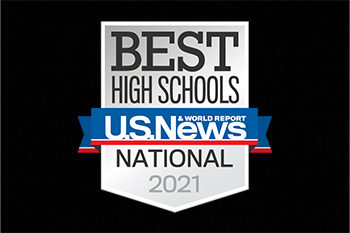 Congratulations! Cabot High School has been selected by U.S. News & World Report as one of the 2021 Best High Schools in the state and nation!
U.S. News ranked nearly 18,000 schools and Cabot High School placed in the top 16% NATIONWIDE.
Out of nearly 300 high schools, Cabot High school also ranked in the top 10% in Arkansas!

Principal Henry Hawkins stated, "Cabot High School is great because we have teachers that care about kids and want to make them successful. Our mission is to love kids, teach kids, and prepare them for their next steps!"

Schools claiming the top spots in the rankings are those where students excelled on state tests, performing beyond expectations; participated in and earned a qualifying score on various college-level exams; and graduated at high proportions. In fact, Cabot High School has a graduation rate of 94%.

Here are the six indicators of school quality U.S. News used to calculate the rankings:
College readiness, based on the proportions of 12th grade students who took and earned a qualifying score on AP and/or IB exams.
College curriculum breadth, based on proportions of 12th grade students who took and earned a qualifying score on AP and/or IB exams in multiple content areas.
Math and reading proficiency, based on student performance on state-required tests.
Math and reading performance, based on whether performance on state assessments exceeded expectations given the school's proportion of underserved students.
Underserved student performance, based on how Black, Hispanic and low-income students performed on state assessments compared with those who are not underserved in the state.
Graduation rate, based on the proportion of students who entered ninth grade in 2015-2016 and graduated four years later.

The Cabot School District is Panther Proud of our Cabot High School students and staff. Congratulations again on this outstanding academic recognition.